Paper & Cake's downloadable halloween party is a treat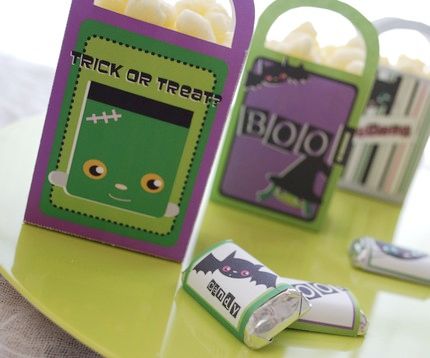 One of my kids thinks that Mickey Mouse is a horror figure, so I've learned to keep our Halloween "unscawy." Instead of settling for whatever I can find in the big box stores, I get to look so put together by downloading CMP fave Paper&Cake's
downloadable Trick or Treat Halloween Party decor
which gives my gathering a pulled-together look without costing more than my Halloween candy budget.
Abigail and Kira have a knack for creating party decor that really pops, and I'm particularly fond of their Halloween palette which combines shades of green, purple and even hot pink for a modern twist. And, if you have older kids, or if you're lucky enough to be able to throw a grown-up bash, check out their
Gothic Halloween Party decor
decor which is anything but "cute".
I used to be afraid that downloading and printing party decor would be a huge hassle, but after purchasing their
downloadable pirate birthday party decor
set last month, I can say with confidence that anyone who is old enough to use scissors well could handle this. It all fits on standard-size 8 1/2x11" paper (use card stock for best results); all you need is some scissors, double-sided tape and about an hour of time. You'll have everything from the clever little favor bags, friendly finger puppets and the cutest mini candy bar wrappers, as well as stuff to decorate your table and snacks.
All for less than $15. Why, I don't think that's scary at all. -
Christina

Wonderful downloadable Trick or Treat Halloween Party decorations can be downloaded from the Paper & Cake Etsy store.

Congratulations to Lisa K., lucky winner of a $30 gift certificate to Paper & Cake!
Find More: Holiday Picks, Party Time!