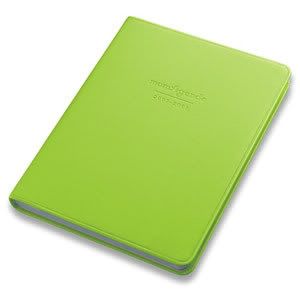 Ever since I was introduced to the momAgenda, I've scoffed at those other datebooks. Try fitting pediatrician appointments, playdates, and field trips for two or more kids into those little spaces and you might as well just write it all on the back of your hand.
MomAgenda has developed something of a cult following, and why not–creator and mom offour Nine Restieri clearly understands the needs of parents and their sometimes overscheduled broods, giving you room in the desktop day planner to keep track of schedules for up to four children. The thoughtfully designed book has both weekly and monthly page views, and a calendar that cleverly runs from August 2007 through the end of 2008.Plus I'm a huge fan of the bright, friendly colors like lime green and pink. Mainly because a day plannerdoesn't workvery wellif you can't find in that enormous, overstuffed bag of yours in the first place. -Kristen
Congrats Laura A. You won your own pick of a momAgenda Desktop Day Planner!