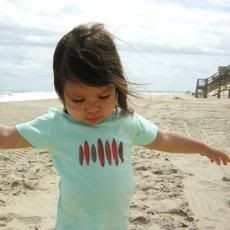 So it might be a little premature to be thinking about warm sand and wave jumping when we're still focused on cold dirt and mud puddle jumping. But when I saw this surfer tee from Fierce Hugs, it made those summer beach days seem almost with my reach.
A two-mom owned company, Fierce Hugs features original designs from independent artists, all of which are printed on the softest and brightest organic tees I've seen. And while these eco-minded moms have worked hard to ensure that every part of their business promotes sustainability and social responsibility, we love that their shirts don't overtly scream HEY! I'M SOCIALLY RESPONSIBLE! -Kristen
Congratulations to lucky tee winner, Jane H!