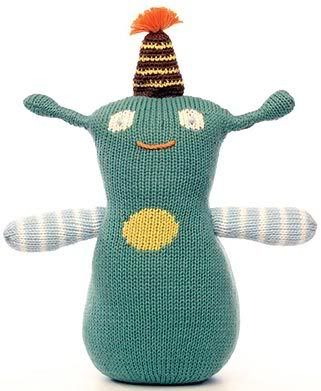 If you are like me and think you don't need yet another stuffed animal, then you have not met Bla Bla Kids' newest addition to their cuddly family, The Boogaloos.
Similar to all of Bla Bla Kids' amazing pieces, the 15 various Boogaloos are handcrafted by fairly-paid Peruvian artisans and are clearly a step above the typical stuffed animal. (Which is also why favorite pieces are often out of stock.) Some are too cute for words, some are girlie, some are just hilarious, but all are really original.
Their soft cotton knit exterior makes wash and wear a bit friendlier–and less allergenic–than those furry monsters, and their shape make them a perfect baby and toddler bedtime companion. Just ask my 14-month-old son who's been sleeping soundly through most of the night ever since his Droplet Boogaloo arrived. Granted, I can't guarantee the connection, but it can't hurt giving it a try. -Kristen
Congrats to MaryLee H, who won the Boogaloo pictured here!