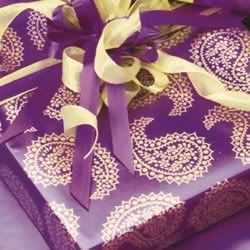 One would think that because I run a shopping website, my husband would have no trouble finding me gifts. Every year I tell him to just click on anything in our Baubles and Bags category and he'll be the world's greatest husband. But every year, he ignores me and decides to go out on his own.
Unfortunately for me (and him) that's just never a good idea.
Well, entrepreneur Cole Kelly had the same problem when it came to his wife Kate. So together, they started GetInHerHead.com, a free service that enables you to enter your birthday, anniversary, and other gift-giving holidays, and then load up everything from your sizes to your most coveted wish list fantasies. Your spouse or partner then gets email reminders before every occasion (and sometimes at random) with the list of suggestions.
My favorite detail is that you can enter babysitter info so that your wishlist can include a surprise date night.
Don't think for one minute that any of this takes the magic out of gift giving. More like it takes the really terrible sweaters and nightgowns out of it. -Kristen
Sign up now and load up all your favorite CMP Mother's Day Gift Guide picks!
[photo via olive paper]