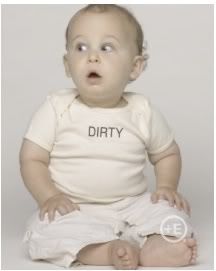 If you want to make a statement, and you're not above using your baby as a billboard (we're not), try +E (positive energy) Awareness Apparel. These soft, 100% certified organic cotton tees and onesies are designed to deliver the social, environmental or political message that's nearest to your heart. And your baby's butt. Seriously.
Check out the one that says "DIRTY," for example. The single bold word is displayed on the chest, but I love the strategically-placed blurb about air pollution on the back that delivers the details.
Other designs are more serious, but there's a cause for everyone from world hunger to wildlife preservation to recycling. And you don't need to haul the family to a sit-in in DC to shout about it.
Plus, +E definitely puts their money where their mouths are: 10% of all net profits goes to charities like Healthy Child, Healthy World and Heifer International. -Julie