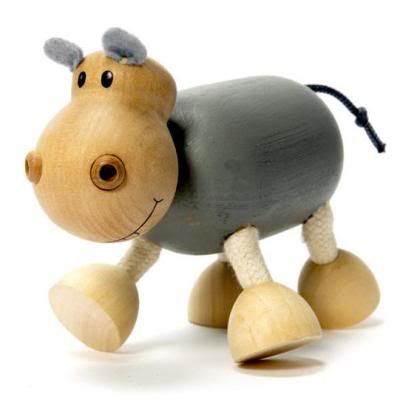 All three of my kids totally dig toy animals. Even the baby happily bangs the horse and cow and pig against the roof of our wooden play barn. It's pretty easy to see that a bunch of new animal figurines would make fantastic stocking stuffers around here, and I've got my eye on Australian Anamalz.
These handcrafted organic wood and textile animal figurines (a good selection available at CMP-fave Petit Baby) are a great eco-alternative to the standard plastic animals littering our family room. Made with non-toxic glues and paints, I won't have to worry when they inevitably make their way into my baby's mouth. Plus kids love bending the limbs and tails to pose the Anamalz in different ways.
But what I really love about them are the cheerful expressions on their faces. Every last one of them is wearing a big grin. How can you resist a smiling hippo? -Julie
Congratulations to Erin, winner of the set of Farm Anamalz!