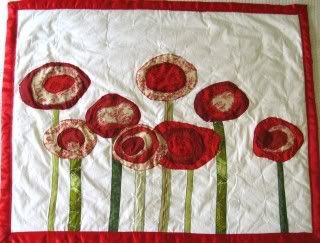 If I were to have another baby, there is no question that at the very
top of my wish list would be this Poppy Quilt from Boston's All the
Numbers. With its big childlike poppies the motif CMP has been crushing on of late, I'd use this oversize quilt
for snuggling time or for playing on the floor. This is the kind of
blanket that begs to be touched with its cool satin edge and
bury-your-face-in-its-soft flannel backing. And I wouldn't even cry
over any drool (or worse) that my babe gets all over it: It can stand
up to cold-water washing.
It's cool too that Kiki from All the Numbers can make these poppies in
any color, although I definitely love the red. There is
even a smaller lovey size quilt for naptime or trips out of the house. It's almost enough to wish for
another baby. Almost. –Christina