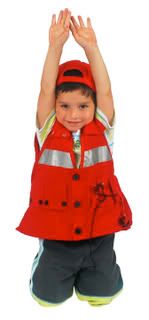 As a mom to a kid who had his share of sensory issues, I was intrigued when I found out about a line of dress-up clothes called Magical Apparel that don't just expand a child's imagination, but also his fine motor skills.
Sold by Fun and Function,
girls can chose from two different sparkly and fully adjustable princess costumes, and little boys (or girls, I'd hope) can imagine
themselves as a firefighter, policeman or an emergency technician.
For those needing sensory input, secret interior pockets can hold small beanbag-like weights. But I'd think any child would love all the buttons, snaps, buckles and other features that keep little fingers occupied.
What I think moms will like the best however is that they won't make your child stand out at all from any other grade school fairy princess or firefighter walking down the street in broad daylight. –Betsy