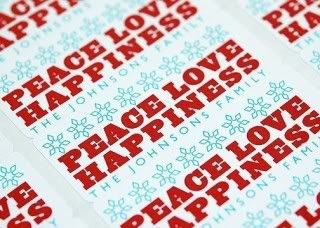 I may buy great gifts, but I'm severely gift-wrap challenged;
my presents usually get hidden toward the back of the pile so that you
can't see my incompetence.
But, this year, these bold little labels from
Turtle Papers will help my gifts look more polished and festive than
what I normally put under the tree. I love their crimson-and-turquoise
colors and the fact that they can be personalized with our family name
so that I can stick them on gifts, cards, plates of cookies and bottles
of wine.
Turtle Papers offers two message options for this season: "Peace
Love Happiness" or "Handmade With Love". Given how deficient I am in
the craft gene, there is no question which set of labels I'll be using. –Christina