Oh how we swoon over the pretty things in life. We're guessing you will too with these picks of our favorite things to make the nursery, kids room, or playroom as awesome as you want it to be.
Liz: Artist Lindsay Brackeen's Tea With White Rabbits Print is like the Alice in Wonderland artwork you never realized you totally have to have for your little girl's room.
Kristen: I've been dying for our kid's playroom to be finished just so I can hang Ida Pearle's amazing alphabet cards (at top) on the wall.
Liz: If I had to start all over again with the nursery, first stop would be modern kids furniture from Spot On Square, all of it eco-friendly, US-made, and yeah, gorgeous.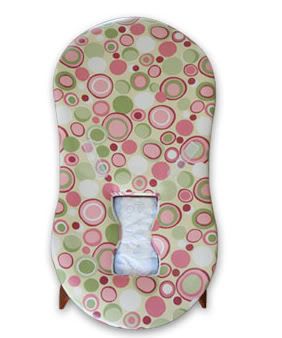 Kristen: It's the changing table of the future. Except it's not a table at all. Awesome. Thanks Ubi.
Liz: The handmade (handmade!) organic crib mattresses from Natural Mat are simply life-changing. At least for whomever is lucky enough to sleep on one.
Kristen: I love the bright, funky new kids bedding from kideko, and the designs are a perfect alternative to the licensed character bedsheets that seem to be stalking me.
Liz: High chairs are just not supposed to look as good as your actual chairs. Bloom's Fresco Loft High Chair is a notable exception.