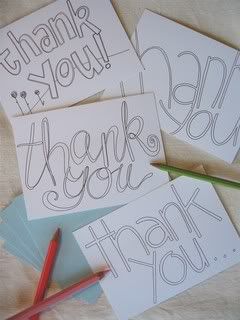 If my four-year-old daughter can write, or well, copy an entire Christmas list and note to Santa, then I'm pretty darn certain she can send thank you notes, especially when they're these ready-to-color thank you cards from Soda by Amy.
This set of four note cards features various renderings of the words "Thank You" that are perfect for your coloring obsessed preschooler. It's a great way to get them started on their way to an excellent habit, and an even better way to keep them constructively busy while you're trying to put away all your bazillion holiday decorations. -Kristen
You'll find these awesome thank you notes, along with a bunch of other fantastic goodies at Soda by Amy.