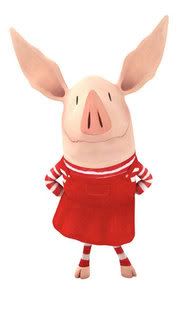 If there's one sassy heroine my daughter's been dying to see come to life off her bookshelf, it's Olivia, the cute little metropolitan pig originally created by British illustrator Ian Falconer as a gift for his niece. Lucky kid, huh? Well starting January 26, we'll be watching Olivia the TV show on Nickelodeon.
My daughter has always gotten a chuckle out of Olivia's precocious antics and fashion sense, while I've always loved her creative mind and strong will. And our favorite qualities from the Olivia children's book series all translate perfectly into this half hour show that will keep your preschooler mesmerized.
If you're worried that it'll take away from the joy of reading about her adorable family, think again. The second the show was over, my daughter pulled out all her Olivia books and reacquainted herself with her favorite girlfriend for a good solid hour. Add another show to my Tivo. -Kristen
Check your local listings for Olivia airing times.