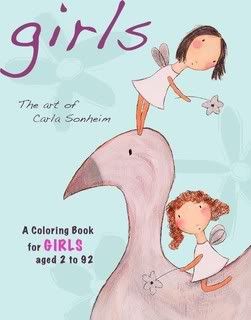 My daughters draw the cutest things: Stick-figure women in
triangle dresses, bulgy-eyed cats and larger-than-life flowers.
Nothing could improve on what they dream up which is why I love artist
Carla Sonheim's new coloring book simply called, girls.
Instead of trying to
reign kids in by asking them to stay within the lines, this drawing and coloring book challenges them to stretch their imagination with whimsical illustrations of girls, fairies, animals and
mermaids all surrounded by plenty of white space where anything goes. Older girls can write stories beneath the pictures,
turning a charming coloring book into their own personal storybook.
Carla (whose artwork we fell in love with way back when) will even sign the book at your request. Ask her to dedicate the book to that budding artist in your life. –Christina
Find the girls coloring book at the Carla Sonheim Etsy shop.