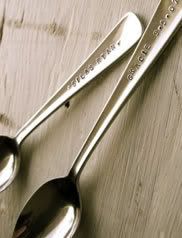 I have to say that the keepsake gifts for new baby boys are pretty slim pickin's. I mean, nothing says "Welcome Boy" like a big plush monogrammed baby blanket, right? So, when I spotted the Baby's First Spoon at Lisa Leonard Designs, I was glad to see someone finally got it right.
This simple stainless steel baby spoon is handstamped to your specifications, and makes the perfect little new baby boy (or girl) gift. Whether the lucky new mom is a spoon collector or not, this custom gift expresses a lovely sentiment and makes a nice change from the typical keepsake baby gifts that I've got piled up in my closet.
And for $20, a hand stamped, personalized spoon is worth it, even if it ends up stuffed in the silverware drawer. But at least that means it's actually getting used, which is more than I can say for half the keepsake gifts I've received over the years. -Kristen
You'll find tons of lovely hand stamped jewelry and custom keepsake gifts at Lisa Leonard Designs.
Use code "coolmoms" for 15% off your order!

Congratulations to lucky winners Lauren L, Susan V, and Nicole P – who'll each receive her own hand stamped spoon!