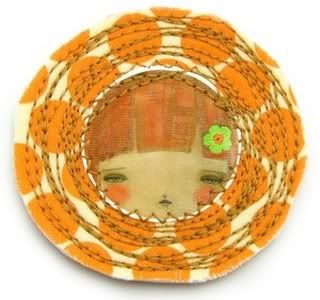 The last time I wore something painted on my cardigan it was a first-grade finger painting project gone awry. But the one-of-a-kind fabric brooches we just discovered from artist/designer/mom Danita Art may change all that.
The great thing about these cool brooches is that you're not just wearing a pin, but an
actual piece of original art. The adorable round faces in the center are prints
from Danita's original paintings, then embellished with fabric and loads of thread. Just the right flair to my excruciatingly boring mommy uniform or a chic tween's handbag.
Danita is always finding new fabrics to work with so her brooches come and go frequently. Meaning you should snatch up the one you love fast, or keep checking back to find the one that speaks to you. She'll even custom design one for you if you ask nicely. And, at only $15 a pop, even Carrie would approve.–Betsy
Find original art, prints, handmade brooches and more at Danita Art.
Congratulations to lucky winner Kate H – she'll receive a custom designed handmade brooch!