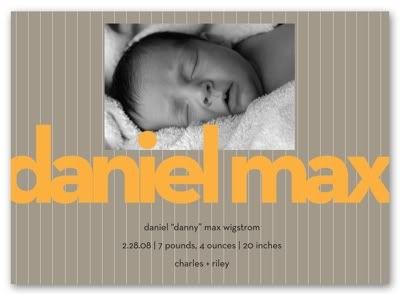 I love the idea of birth announcement as a means of sharing pure joy. But the logistics of actually getting my own announcements in the mail was too daunting for me on top of the rest of my post baby to-do list. No matter how joyous the occasion or how beautiful the birth announcements
may be, stuffing and addressing envelopes is a tedious chore.
Red Stamp has a whole slew of gorgeous new birth announcements (my personal favorite is the gray and orange pinstripes), but what makes Red Stamp perfect for the expectant mama is their Mail-For-Me service. All you do is finalize the details of your announcements and your mailing list. Then let Red Stamp assemble and send out every last one of them.
If there was ever a time to let someone else do my chores, it was when I was tied to a newborn 24/7. Now if only I could have outsourced the laundry too. -Julie
Find beautiful personalized birth announcements at Red Stamp Cards – and get 15% off any announcement and/or Mail-For-Me service on purchases over $100 with code CMPBABY15 through 3/15/09