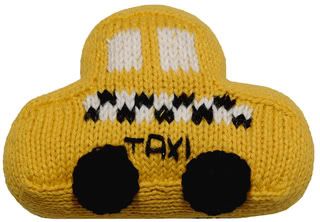 The thought of an infant gumming on a New York City taxi sounds pretty
unsanitary until you see the adorable, soft crocheted baby rattle toy found at Estella NYC. Handmade by Peruvian artisans, this small taxicab is
the perfect size for little hands to grab and gnaw. And, the bright colors and
soft yarn will really capture their attention.
I think this soft rattle would be a perfect gift for an urban baby, or even those
babies who just wish they lived somewhere it costs $16 to go four blocks in a snowstorm. -Christina

Catch your own taxi baby rattle at Estella when you click through this link, and save 10% on orders (excluding gear) with coupon code CoolMom10