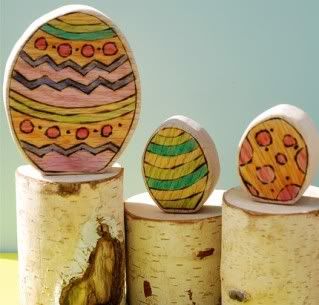 Nothing like a holiday to make me feel like the harried mom buying last-minute decorations that probably aren't even worth saving for next year. That's just bad for my wallet and bad for the earth. So this Easter, I'm ahead of the game, thanks to the adorable Star House Wooden Easter Egg Set.
This chunky handmade set of three eggs are painted with lovely non-toxic watercolors (welcome change from the usual neon) and then finished with beeswax and jojoba oil. They're the perfect tabletop Easter decoration, or better, Easter basket addition. And the last time I checked, wood has absolutely no sugar. Always a plus if you've already got a very jellybean-happy Grandmom…er, Easter Bunny. -Kristen
Visit Star House for an amazing array of adorable handmade wooden toys and figurines.
Congratulations to Charlie, lucky winner of the Wooden Easter Egg Set!