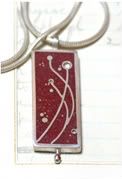 As you might remember, once a year we ask you, our fine, beautiful readers, to tell us a little more about
yourselves so that we can keep telling you about the products, services, and other picks that matter to you and your families.
It also helps ensure that we have cool sponsors, and not say, tobacco
companies or nuclear bomb manufacturers.
If you would be so kind as to fill out this quick survey (we promise – two minutes!), you'll be entered to win a gorgeous sterling silver necklace from Blue Poppy Jewelry ($125 value, and a great Mother's Day gift?). Just make sure to include your email at the end of the survey so we can enter you.
This isn't info we sell or share — we love you all too much for that. Thanks mamas! – Liz and Kristen