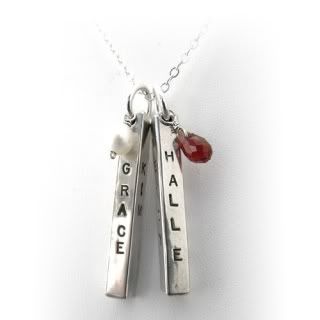 Until this personalized necklace from the husband and wife team behind Searcey Designs, my only foray into the world of personalized jewelry was an ID bracelet purchased in my middle school years when they were all the rage. And that was just a cookie-cutter affair bought at Macy's.
That's a far cry from having someone personally hand stamp your children's names on sleek little bars made from reclaimed sterling silver. Hand stamping is such an earthy and modern way to customize jewelry; it has a clear human touch to it, and no two pieces can ever be exactly the same.
When you order at Flying Peas, you've got tons of options for customization, from what goes on each charm (you can use all four sides), to birthstone accents. It's pretty. It's simple. It bears the two names that are most dear to me. Conclusion: I'm sold. -Carrie

Order this beautiful personalized necklace online at Flying Peas – you've got until May 4 to get it in time for Mother's Day! Look for more great Mother's Day gift ideas in our 2009 Mother's Day Gift Guide!