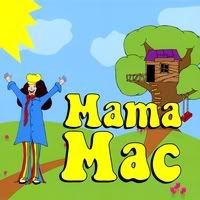 I thought I knew what to expect when I saw the cover art on Mama Mac's
self-titled kids' CD: I was sure there would be an acoustic version of
Kumbaya and maybe a few 70's folk songs.
Boy, was I wrong.
A veteran of
the LA indie music scene, Amy Elkins, aka Mama Mac, can take a
toddler-friendly song like Rocket Ship and turn it into a rocking
tune that makes me want to sing along, much to my children's chagrin.
I know why my kids adore
listening to Mama Mac sing: She encourages them to jump around a room,
roar like a bear and make pretend chocolate chip cookies, all with a kicking voice — how could
they resist? Her music is sometimes cutesy and sweet but
always fun and full of energy. With the rich backup of a full band
including Amy's husband, Mike, the music ranges from reggae to country,
rock and more. And like many things I remember about toddlers, it offers many unexpected, delightful treats. –Christina
Find the Mama Mac debut kids' music CD or listen to samples at CD Baby.
Congratulations to Erin H, lucky winner of a copy of Mama Mac!