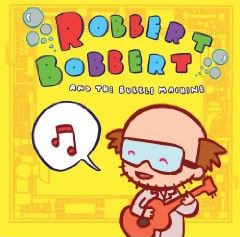 Robbert Bobbert, aka Robert Schneider of the very cool
indie rock group The Apples In Stereo, showcases his unique voice with
Beach Boy-esque backing harmonies and experimental sound combos in his new self-titled CD for kids, Robbert Bobbert and The Bubble Machine.
The CD kind of reminds me
of walking through a fun house: A lot of fun, kind of kooky and full of
surprises. I
love the chances he takes, from the booming Giant and teeny
Mouse voices on "Fee Fi Fo, Fee Fi Fum", to his use of non-traditional
instruments like a cuckoo clock, toy piano and slide whistle. And, I've
got to give props to Todd Webb who drew all the perfectly suited
illustrations on the CD cover, the enclosed mini comic book and
coloring book.
Sure this is a kids' CD, but you may catch me bopping around the room
to "We R Super Heroes" or "Gravity". Fortunately,
the CD turns tender right around the time my stamina gives out.
Phew. –Christina

Find Robbert Bobbert and The Bubble Machine's new kids' music CD at Amazon.

Congratulations to Kelly F, lucky winner of a copy of Robbert Bobbert and the Bubble Machine's CD!