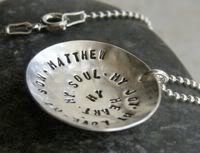 I'm the sort of person who is into the idea of personalized jewelry a lot more than the reality — the reality usually being a little more twee and a lot more expensive than I like. But at SimaG Jewelry on Etsy, metalsmith Sima Gilady creates a wide array of simple yet beautiful customizable pieces that I can get behind.
My favorite is the Circle of Joy necklace, pictured here. It's just 1″ across, leaving me wondering how she manages the perfect stamped lettering. The result is my favorite sort of subtle effect; from a distance, it looks like just a pretty pendant, but up close, the swirl of lettering adds meaning. And if you're looking for that perfect affordable Bat Mitzvah gift, do not miss the gorgeous Listen pendant, something deserving of the "Judaica that isn't lame" category label if only we had one.
Each piece is prettier than the last, and they're all available at prices mere mortals can afford. This is exactly why Etsy rocks. -Mir
Buy your personalized necklace or other custom jewelry at SimaG Jewelry.