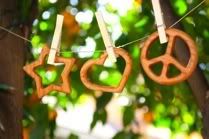 I'm always on the lookout for unique eco-friendly baby gifts that don't break the budget, in addition to my regular arsenal of organic onesies and blankets. I know, boring. So when I saw the truly original heirloom baby teethers from Rock Love Peace Baby I knew I had found my new perfect go-to gift.
The lovely, rich cherry wood teethers are carved into three unique shapes – a heart, star, and peace symbol (my fave) – and are finished in organic beeswax. They're just the right size and shape for a wee one's little grasp, and thin enough that they can actually munch on them without breaking their jaw. Packed in a cute, rustic jute gift bag, this set is perfect for any new mom – crunchy hippie or not. -Kristen
Check out eco-friendly baby gifts from Rock Love Peace Baby at Starter Kit for Change.