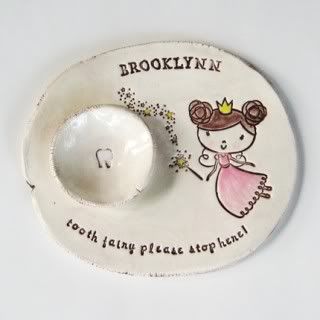 Since turning five and seeing all her similarly aged friends losing teeth, my daughter has become obsessed with the tooth fairy. And while I love all the fantastic tooth fairy pillows we've found here at Cool Mom Picks, I don't think I can bring myself to add another stuffed item to her already crowded bed.
So that's why I'm snatching up an adorable personalized tooth fairy dish from CMP fave The Brick Kiln. Just send them your daughter's name, along with hair color and dress color choice, and this creative duo will fire up a dish just for your soon to be  toothless wonder.
Not only is it a lovely gift and a keepsake at that, but with a light sleeping kiddo, it ensures that her rest will not be disturbed by the bumbling tooth fairy who's not always as light on his toes as we would all hope. I mean…her toes.

Find this personalized tooth fairy dish and other handmade ceramics at The Brick Kiln.

Congratulations to JK, lucky winner of a tooth fairy dish!