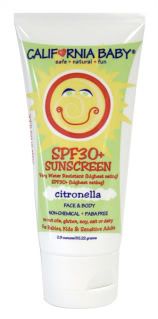 Our New England summer started off as one big, wet petri dish for
mosquitoes, meaning the buggers are now swarming even in the middle of
the day. And there's no sign of it letting up until fall.
I have no intention of mixing DEET into my kids sunscreen, so
I'm grateful that California Baby has an
all-natural SPF 30+ Sunscreen Citronella Bug Blend to protect our family's
lily-white skin from both dangerous rays and flying biters.
The thick PABA-and-chemical free lotion with SPF 30 is great for us non-tanners, and
my skin can attest to its effectiveness after a hot day in the garden. The bugs stayed away too,
repelled by the fresh-smelling, effective citronella, lemongrass and
cedar wood botanical repellents. Not a scary chemical among them. This sunscreen / insect repellent combo may cost
a little more, but when you consider that it replaces the need for
separate bottles of sunscreen and bug spray — and when you think about the time I save not having to spread two products on three
kids — this Bug Blend is definitely finding a permanent home with us. –Christina
Find California Baby's all-natural SPF 30+ Sunscreen Citronella Bug Blend a the California Baby website