The only thing more impressive to us than an adorable handmade stuffed animal is one with an awesome do-gooding backstory. Like the one behind Kathy Chereck's "critters" at the shop Ashley Petite.
When Kathy Chereck lost her grandson, Nicholas, to a rare medical condition, she began creating elephants and piggies and the fuzzy bunny shown here, with all the proceeds (all!) going directly to Angela's House II which assists parents by giving them a place that can support and help care for medically frail children.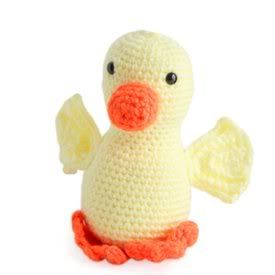 Fuzzy Bunny has long hair so it's probably best for kids who are past the stuffing everything in their mouths stage, but most of the other critters are knitted from super soft yarn and are perfect for any age. They're only $10 and, given that the money goes towards such a worthy cause, I'm thinking you may want to grab a bunch of them as birthday presents, stocking stuffers or just to make yourself feel good today.–Betsy
Grab a few of these cute handmade stuffed animals at Ashley Petite and you can save 20% off any order at the shop, including their blankets and baby gifts, when you enter the code CMP20 at checkout.
Offer good through September 20th.
Congratulations to Bing Y., lucky winner of the Fuzzy Bunny from Ashley Petite!