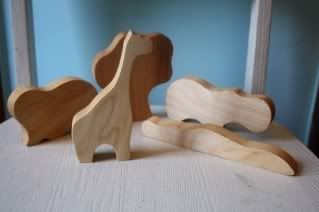 If your kids are like my kids, then it doesn't matter what the toys were intended for, they all still end up in their mouths. Hence my appreciation for the new sets of pretending and teething toys from Little Alouette.
Hand carved from maple wood with love by Ohio-based mom and dad team Amy and Joe Sharp, these adorable play sets feature a set of five animals (well, four and a tree if you're being technical) that older kids can use for creative playing while their younger siblings use them for chomping. And don't worry about splinters; the toys are super smooth and finished with organic flax seed oil.
Be thankful that you'll get to say "out of your mouth!" a few hundred times less. -Kristen
Visit Little Alouette for handmade wooden teethers, baby rattles, and toddler toys.
Congratulations to Mary A., lucky winner of the teething set from Little Alouette!