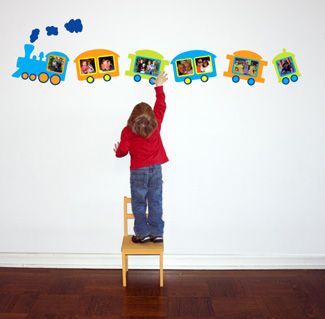 If you are like me and have a ton of photos that need to go on the wall, but you lack the motivation to frame and hang them, Stickr has got something to make the process a whole lot easier.
We've recommended their more sophisticated reusable vinyl frames in the past (no hammer, nails or level needed), and now they've got a new train photo frame that's especially perfect for the little one's room, where breakable glass and sharp-edged frames that can get knocked off the walls are dubious ideas at best.
The train set comes with room for eight photos (which you could never frame in ordinary photo frames for $25) and is movable and restickable and frankly, quite fun to arrange. Be careful, though; if you need to swap out or reposition a photo, do it gently. The vinyl is very tacky and can tear the photo paper if you are too rough.
All in all, it's a fun and easy way to get some of those long-ignored photos up where they belong. –Carrie
Find Stickr Train Frames and the rest of the Stickr series at Butch and Harold.