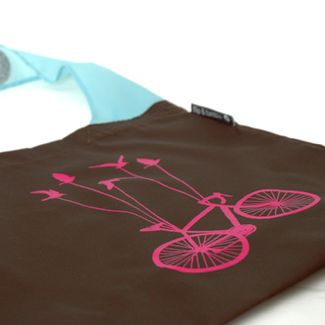 So maybe the first time we told you about the Flip & Tumble reusable shopping bags that you can just fold up into a teeny little ball and toss in your purse, you liked it…but you just weren't wowed by the solid prints. Well now Flip & Tumble's new line of 24-7 reusable bags are the same, super lightweight, useful bags as before, but now in your choice of five unique designs.
Each bold, graphic bag is designed by indie artists from Northern Californian all the way to Hungary. While the solid ones are still terrific, I always feel a little fancy pulling a downright funky bag out of my purse to stash the quart of ice cream I just had to stop and buy. Ahem.
They're almost too much fun for reusable bags. Almost. -Mir
Check out the 24-7 reusable nylon bags at Flip & Tumble
Congratulations to Erin T., winner of the Flip and Tumble bags!