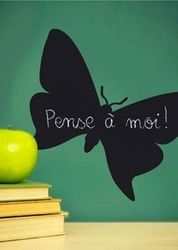 I'd argue there's little more useful than a chalkboard, especially the two beautiful new chalkboard stickers at Zoe b Organic in the shape of either the endangered Isabelle butterfly or a koala bear.
They're made from potato starch, which results in a 100% biodegradable chalkboard, believe it or not. And because they're stickers, they're ideal for small spaces–no jutting out from the wall. You might say they've got a lovely little actual footprint to go with that little carbon footprint.
These erasable stickers work with regular chalk (which yes, you'll have to clean up as the chalk dust accumulates), but that's pretty much the only "regular" thing about them. -Mir
Through 9/30/09, use coupon code cool to buy your Endangered Species Chalkboard Stickers (or anything else) and get 10% off from Zoe b Organics.