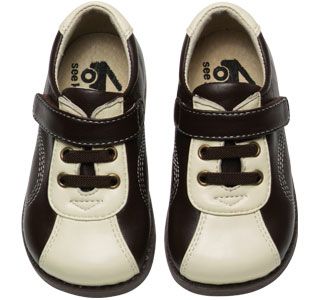 The television show Mad Men isn't just influencing adult styles for Fall. We've seen some pretty awesome retro-inspired kid's clothes and shoes this back to school season, like the adorable Elliott shoes from See Kai Run.
Even though these super sharp kicks are definitely on the dressier side, they still pair well with jeans or khakis. And since my son has wider feet, it's nice to find trendy kids' shoes that actually fit him comfortably, other than the three pairs of sneakers that are in our current rotation.
Like every other pair of See Kai Run shoes we own, they're soft and padded with flexible rubber soles, making them a great choice for little feet. Or big ones. Sorry son. -Kristen
Visit See Kai Run for a plethora of awesome leather shoes for boys and girls. And don't miss our Back to School Shopping Guide, which is full of great styles for kids that you won't find at the mall.