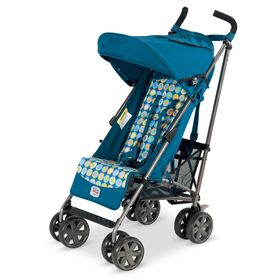 The first thing each of my kids were strapped into was a Britax car seat. I liked Britax's quality and reputation, and now that both kids have outgrown the seat, it still looks like new (except for a bit of cracker smudge on the straps). So it makes sense that the Britax's foray into seats with wheels, or the Britax Blink stroller, won me over.
When a review sample arrived, my first thought was that at 16 pounds it's a little heavier than my mostly-plastic (fairly high-end) compact stroller. And it is. But as soon as I started pushing it I was sold on those couple of extra pounds for the extremely smooth ride and sturdiness of the thing. There are no cheap parts likely to fall off soon, and the frame is so solidly built, I can imagine it outlasting multiple kids and the many miles of strolling that go along with them.
The handles are nice and high with wheels tucked forward, and it's easy to steer with only one hand available (a state I find myself in quite a lot, what with the second child's hand to hold). It definitely could use a cup holder and a larger basket so if you're looking to haul all your groceries on your walks, this isn't the stroller for you. But it does have other thoughtful details like a zip pocket on the back of the hood for your keys or wallet, and brakes that lock both rear wheels with one step.
It reclines all the way to the top of the basket (so make sure you don't need to get in the basket when the child is sleeping or you'll be SOL) and though at first I wasn't sure about the need for an adjustable foot rest, when I put my sleeping son in it he seemed much more comfortable with his legs supported rather than dangling.
And he kept sleeping, something he's never done in any other stroller. Which tells me he feels pretty darn comfortable in the Britax Blink. –Carrie
Find the Britax Blink Stroller online at Albee Baby, Baby Earth or at our affiliate Amazon.