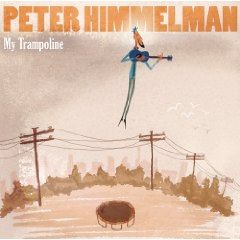 It's not easy to get into the mind of a kid — just watch me trying to pry "how was your day" from my eight-year-old—but LA singer-songwriter and father of four Peter Himmelman seems to have this knack on his new kids' music CD, My Trampoline.
Whether he's singing about a child's unabashed love for a pet tortoise or extolling the virtues of lying under a tree, his ability to wrap smart lyrics around pop-rock beats gives my kids and me something to both listen to, and think about, on our drives around town.
Peter's voice reminds me of Elvis Costello in a peppy mood — more Veronica than Alison. Most of the songs on My Trampoline have a "get up and bounce around" beat that my kids adore, and I love the rich assortment of instruments like trombones, violins and trumpets. Given that Peter has had a long and successful career writing music for grown-ups as well, his children's music has a sophistication from those years of experience.
Very young kids may not understand the spoken-word Statistical Factoids or the four-minute sweeping anthem Ten Billion Blades of Grass, but both will give older kids some food for thought. But, if you have a son named Peter, you may want to warn him that Peter the Pin Head is about the singer and not a written insult to your beloved. –Christina
Get $2 off of Peter Himmelman's My Trampoline at Minivan Productions from now through 10/31 with code coolmom. You'll also find My Trampoline at our affiliate, Amazon.
Congratulations to Michelle M., lucky winner of Peter Himmelman's My Trampoline!