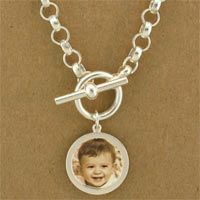 I've always liked the idea of having a photo charm necklace or a locket or something else with my children's photos in it, but I'm completely unskilled with an Exacto knife. The secret, it seems, is that you ask a professional for help: Isabelle Grace's line of photo charms is exactly what I've been looking for all these years.
The basics are this: You send Isabelle Grace your photo, you choose the shape of the charm and the style and length of the chain, and they create a one-of-a-kind piece for you. But that doesn't even begin to address just how lovely these pieces are.
I adore this toggle chain photo charm necklace which is understated and elegant with a slightly retro look that will work for anyone. The black and white photo is beautifully set off by the sterling silver frame in your choice of shapes, and the delicate chain is just lovely – we're never fans of jewelry where the chain seems to be an afterthought.
It's not a heavy, Tiffany style piece; it's actually very lightweight, which surprised me a bit, because the photo charm feels very sturdy. I truly forget that I'm wearing mine — until someone asks about it, that is. And every single time I wear this necklace (which is pretty much daily, to be honest), someone asks about it. -Susan
Find a nice range of photo charms and personalized jewelry at Isabelle Grace