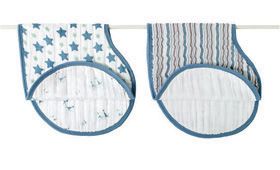 Ever since I was introduced to the Aden & Anais muslin swaddlers, I've anxiously awaited (and subsequently been blown away by) their new products, most recently the baby sleep sacks. So I'm not surprised that I was instantly smitten with their new genius Burpy bibs.
Crafted from their signature muslin in a slew of cool, exclusive patterns, these burp cloths are thick and soft which is a must for drooly, spitty baby faces, but even better, the cloths are shaped to fit easily on your shoulder. That means they'll actually catch the drool and spit instead of your shirt.
But if that's not enough of a miracle, the burpy bibs feature a handy little snap that takes them from burp cloth and turns them into a bib. Granted, it might be a bit larger then what you'd typically use, but considering it means one less thing to stuff in the diaper bag, and one less thing to wash, I'm all over it. -Kristen
Visit the swanky new Aden & Anais website for their signature muslin baby products.
Congratulations to Casey W., lucky winner of the burpy bibs from Aden & Anais!