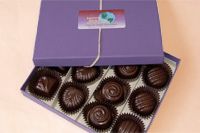 I've bought enough chocolate for my milk-allergic daughter to know that milk isn't a necessary ingredient for super-delicious chocolate, especially when it's the extra-good-for-you darker varieties. And while Divvies is my first choice for safe, dairy-free kid-friendly chocolates, I'm going with TerraSource Gourmet vegan filled chocolates for those grown-up vegans and milk-allergics on my list, as well as those who just want to support growers of local, organic and fair trade ingredients. And, with the majority of the flavors gluten-free too, I've even got those folks covered.
I'll admit that I was a little skeptical about some of the unique
fillings that TerraSource's Josie Pradella developed in her Madison,
Wisconsin kitchen. But it only took me one nibble of the bite-sized chocolates to be convinced of
such pairings as Masala Chai Tea and Orange Ginger. Even my eight year old gives the Brandied Pear two thumbs up, which concerns me a little. I only wish the
Coconut Dream upped the coconut a bit so that I could have dreamed of
the South Pacific in November.
The 5-piece Vegan Chocolate Assortment
makes a great, under-$10 gift for all the coaches, instructors and
party hosts in our lives. Certainly better than another gift card to the local
coffee shop. –Christina
TerraSource Gourmet Vegan Chocolates are sold at Foodzie and at terrasourcechocolates.com. They are best eaten within seven days of purchase, so email Josie if you need to coordinate your chocolates for holiday gift-giving.