It never ceases to amaze me how many awesome artisans live right here in Atlanta, many of whom we've featured on this site. So when I had the chance to hit the local Indie Craft Experience, not only was I pleased to run into past faves, like Mary Sweeney from the Felted Heart and artist Alena Hennessey (who's actually not from Atlanta, but hey, we don't discriminate), but I found some great new jewelry artisans just in time for the holidays. And thanks to the beauty of online shopping, you don't have to live in Atlanta to bring them home.
I fell in love with Jessica Gonacha's ceramic necklaces at another Atlanta fair and the one I bought is one of my favorite pieces. Since they're reversible, it's like getting two necklaces in one. And at $28, they're hard to resist.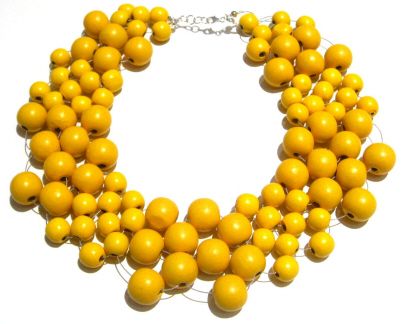 Made from recycled wooden beads by two styish sisters, the
eco-friendly necklaces
from Iram-inal Designs make a bright, bold statement – and a good one
at that. Every time I wear mine, I get at least one compliment. And
that's on a bad day. I also really like their upcycled
fabric necklaces
which are so chic now, and at a great price.
I spent a good 10 minutes staring at Faryn Davis' gorgeous handmade rings and necklaces from her shop, Fern Works. I was particularly enamored of her "found objects" line that feature real life plants,
flowers, yes, even bugs encased in resin. Perfect for the nature lover.
Or family paleontologist. Or grab that lovely nest ring as a sentimental, unexpected way to honor a new mom. –Kristen

For more awesome holiday picks, head over to our 2009 Holiday Gift Guide.