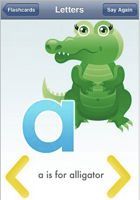 A few weeks ago I had some friends over to the house, and one of them brought her three-year-old, who immediately commenced leaping around on the furniture like a chimp on crack. Given that my children are past that phase (or can be reigned in with a simple, Knock it off!), I began to fret about his safety — and my upholstery — a bit.
But then, a miracle occurred: My friend whipped out her iPhone and handed it to her tot, and for the next twenty minutes he happily busied himself with iPlay'n Learn, a new app from the folks at Parents Magazine. When I asked, my small visitor was only too happy to show me that he could switch between letters and words, colors, numbers, and shapes — a wide variety of learning games he could easily navigate on his own.
His mom confirmed that he regularly entertains himself and it's not too loud or frenetic. My furniture was saved, and I couldn't have asked for a better real-life test subject. -Mir
Get the iPlay'n Learn iPhone app from the iTunes Store.