Now that I'm in the thick of holiday gift-wrapping, and starting to look for finishing touches, nothing warms my heart more than the words free and you don't have to go to the store for this. Which is why I love these awesome gift-worthy gift tags that you can print from the comfort of your own home without spending another dime.
Just make sure your printer ink cartridges are full, and you use a good quality card stock. You want to look crafty — not cheap, right?

How much do I love Paper Chase's snowy Gift Tags? Much more than the
real stuff piled up outside my front steps. (download at Domestifluff)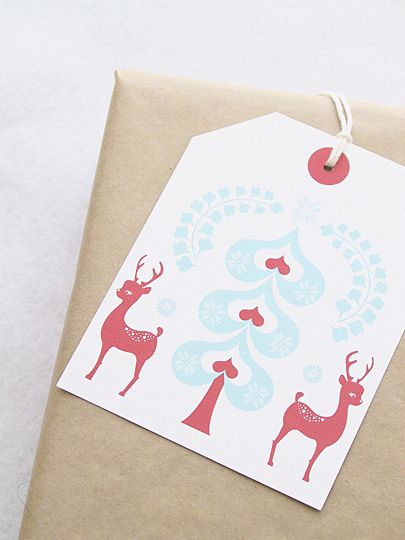 Even the plainest of brown paper packages tied up in string get a festive makeover with the whimsical Jumbo Holiday Gift Tags from Eat Drink Chic. They look so great big!
J'adore the delicate, understated set of eight gift tags from Ce Que Je Voeu, which you can print avec or sans lines for filling in your own recipients.
For sheer variety, check out the colorful assortment of Gift Tags from Delight.com which are modern, fun, and just a wee bit girlie.
Bucklette's annual downloadable Gift Tags range from the nice sentiment shown here, to my own favorite – last year's happiness series featuring sayings like Happiness to me is seeing your face when you open this gift. – Christina