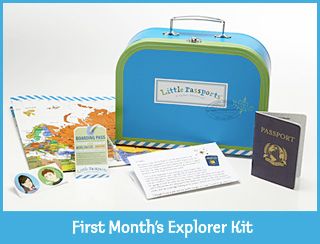 Any moment now, I'm going to realize with a start that I've overlooked someone on my Christmas list. You too? Don't panic. Check out some of these monthly gift services which will deliver a gift card or acknowledgment right away or at least allow you to print the info and stick it in a card. That way you're not showing up empty-handed, and the excitement starts brewing as your lucky giftee waits for the first installment.

It'll seem like I totally planned it this way. -Christina


FOR CURIOUS KIDS
I know my six year old is going to flip when she sees her
Little Passports monthly adventure kits
(above)
that her aunt ordered her. And, since I won't be taking three kids out
of the country anytime soon, these fun, educational monthly kits may be
the closest she gets to those far-away places on the map.
FOR READERS OF ALL AGES
I'm a bookaholic, so it's no surprise that I love
GiftLit
. This subscription series makes it so easy to check off everyone on my list from Mother-in-Law who's impossible to shop for, to my board-book chewing baby niece, to selections for the entire family.
Another monthly book club, the
Lollipop Book Club,
focuses on kids, with books selected by age or theme. And when the packages arrive, they come topped with a
lollipop and a custom message from the gift
giver. Sweet x 2.
FOR BABIES AND TODDLERS
ebeanstalk's Grow and Learn Series
are so smart, I'd feel pretty brilliant scoring one as a last-minute
gift for some little elf in my life. Every three months for an entire
year, an age-appropriate toy is sent to your favorite newborn, toddler or preschooler. The best thing is that they're all the same high-quality
items I'd spend hours hand-picking myself, if I had those hours to do
that.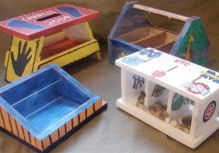 FOR CRAFTY KIDS
The Project of the Month Club
is perfect for kids who need to build, create, touch and paint (and
have parents who are okay with all of that). Their fun, hammer-ready
Master Builder projects take me back to high school shop class minus
the creepy teacher, and the the Aspiring Artists series is perfect for
the Rembrant wannabee in my house.
FOR SOME VERY LUCKY GROWNUPS
I think I'd swoon and hit the ground if someone got me the Year in Bloom Flower of the Month Series from CMP-approved Flowerbud.com. Not only because it is a super special, pricey gift, but also because their flowers are fresh and gorgeous. Getting just one bouquet would be pretty great, but 12 months of fresh flowers? Wow, I must've really been a good girl this year.