We flipped over the graphic cut-paper mobiles from Frazier + Wing when we first discovered them at the Bubble show earlier this year and we're so excited to see some of the new offerings, now at more affordable prices.
The basic mobile is like a big joyous pompom, bursting with surprising colors (or neutrals, should you prefer) and delighting you with different die-cut shapes. They're all hand-sewn by Portland artist Heather Frazier, then weighted in a way that they hang perfectly while still blowing gently if they catch a breeze.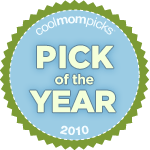 Or for something really different, check out the collection of "unique mobiles" which incorporate bits of feathers, twigs or ephemera. Some of them are more like wall art than mobiles.
There are also some great 6-foot paper garlands, each one handmade to order for just $20 if you happen to want the coolest streamers on the block for a shower or birthday party. And in case you're thinking, oh, I could make those – I've seen them. And no, you can't. This is art, not craft. –Liz
Find cut paper mobiles and paper garlands, from Frazier + Wing