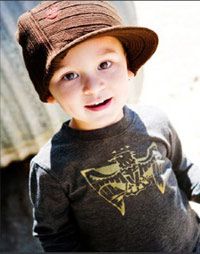 My boys wear uniforms to school, so they like their play clothes to be fun and funky. I like them to be clothes they can actually play in. Boy Peralta, Inc has cool stuff that we can both live with — and love.
You'll find brands like Appaman and Knuckleheads, as well as their own original pieces. I love that these designs — like the Knuckleheads Eagle tee pictured here — are kid-appropriate without being cutesy (no fire truck appliques here). I also love that Boy Peralta isn't just tees — they have great pants and cool accessories, too, for a whole hip kid look.
This is one shop that totally gets that even little boys have a big sense of style, and that play clothes don't have to come emblazoned with movie tie-in characters to appeal to kids. Boys can be boys in these duds.
Just cooler, better-dressed boys. -Susan
Shop Boy Peralta ("the modernist boy") for cool picks for your boys.