When I hear the word wallpaper, it conjures up really bad images of this odd looking flower pattern that completely covered my bathroom wall growing up. It a nutshell – it scares me. But thanks to advances in technology and design, wallpaper is again becoming a pretty cool way to decorate a baby or kid's room.
Take the super swanky boy-centric designs from UK-based Paper Boy Wallpaper, whose dinosaur wallpaper line called Dya-thank-esaurus (pictured) is tempting me into redoing my little dino-obsessed son's room.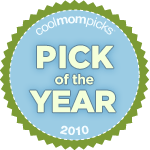 I love the realistic silhouettes combined with the whimsical placement of the boy figure throughout. (Look closely – you'll see him in there.) I'm also really liking the really original "Hand Made" motif, which depicts hands making animal shadow puppets and makes a fantastic addition to a kid's playroom, although the current color selection is a little intense.
Granted, it's still wallpaper, so you need to be committed to your theme. But considering how awesome these particular ones are, I'm pretty sure you'd have no problem sticking with it until the kids can actually remove it themselves. -Kristen
Visit Paper Boy Wallpaper for more unique wallpaper designs.
Use code COOLMOMPROMO for 15% off your purchase through 3/15/10