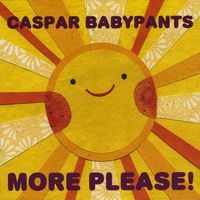 2009 may not have been the best year for home mortgages or Tiger Woods, but for those of us with kids, it was a great time to be listening to music. It was so terrific, in fact, that I still have a few ear-worthy CD's that you should consider for your collection. (And psst, stick with me to the end since I'm giving one of them away.)

I'm betting Caspar Babypants will be a household name soon enough,
especially with his second CD following on the heels of his much-loved
debut, Here I Am! His latest CD called, aptly, More Please!
is full of guitar-strumming ditties that had my kids and I singing
along after the second listen. But what I really love are his slightly
twisted lyrics which he's honed for years as the front man of the
Presidents of the United States of America (remember Lump?).
More Please! is made of the same oddball stuff sprinkled with kid-friendly sweetness as in Dust Mite, an ode to the smallest and most unlikely of pets, to Got a Little Ghost about a definitely non-scary spirit. And I just love that Weird Al Yankovic says, Caspar Babypants is one of the few children's recording artists I can listen to without wanting to stab myself in the eyes. Now, that is an endorsement.
(available at babypantsmusic.com, or download from our affiliate Amazon)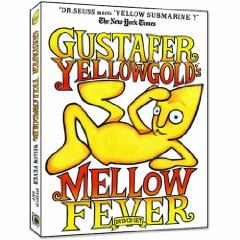 Gustafer Yellowgold's Mellow Fever was
one of my top choices for kids' albums in 2009. Mellow Fever is
laid-back indie pop with cool harmonies and far-out lyrics like you
can see happy. This isn't a CD
for only the kiddos either: the symphonic, melodic sounds and not-babyish
lyrics will also play well among older kids and even adults. Heck,
Gustafer Yellowgold has opened for Wilco, so I suspect their
legions of fans go far beyond the pint-sized. Plus, check out their
clever, eye catching DVD, which they call a Musical Moving Book, and
enjoy the ride.
(available at our affiliate Amazon)
Johnny Bregar's Dragonfly actually
came out around Election Day '08, but I was a little preoccupied with a
certain historical presidency back then and totally missed it.
Fortunately, I am now enjoying its folksy, mellow feel, and Johnny Bregar's cool voice which channels a bit of Jack
Johnson.
There are plenty of fast-tempo, banjo-picking tunes like Christmas Cove
which kicks off the album, tempered with enough slower toe tappers like
the title tune, Dragonfly or the funky How Many
Stars? And even though I
usually roll my eyes when kids start singing on children's CDs, I love the closing
song Una Sardina which is so adorable you won't even hit the skip button.
(Grab a copy or download at cdbaby) –Christina

Congrats to Kirsten W, Corinne B, and Leslie W – lucky winners of a copy of More Please!