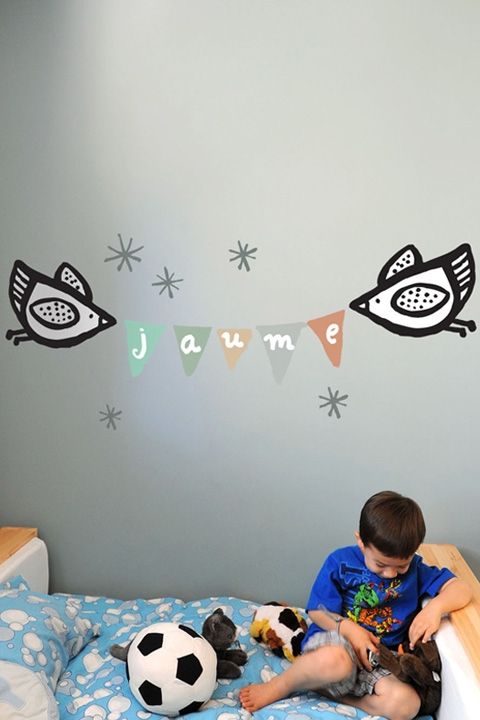 If you've been in the cool kids boutiques, on the design blogs, or heck, on our site lately, you'd know that banners are a hot new nursery trend. And the freethinking coolies at Blik agree.
We've covered these hip, do-it-awesome-yourself wall decals before, but the new Wee Gallery Birdie Banner, designed by one of our favorite baby cos, is too cute to miss. The package includes 100 removeable decorative decals, including two adorable birdies, 15 hiply colored banner pieces, a very small galaxy of stars, and 78 letters to cover everyone from A(lexis Anne) to Z(ane Benjamin).
The design fits nicely in an 8'x8′ space and would look dashing above a crib. Since babies start out myopic and drawn to black and white, the birds are sure to be a big hit with the babbling set. And if you're worried about messing up, never fear. This one's rated "cakewalk", and all of the decals are restickable.
In conclusion, if you want a mural in your nursery, my rates start at $300 and I require a box of Andes Candies. Blik wants only $38 for this masterpiece. The little birdie says to go with Blik.~Delilah
Find the Wee Gallery Birdie Banner online at Blik