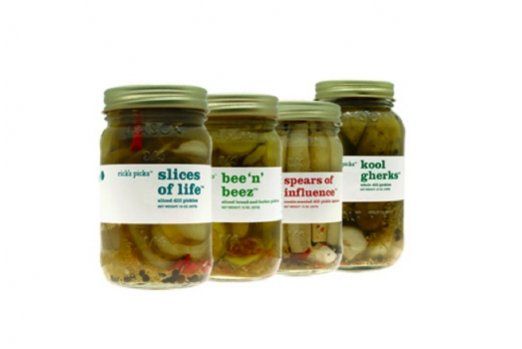 Pregnant? You may not want to read this. Really. You might want to just step away from your computer. Because I'm about to write about pickles. And you know that as soon as you read about pickles, particularly these delectable artisan pickles from Rick's Picks, that you're going to want them. Like, right now. Don't say I didn't warn you.
Rick's Picks makes at least thirteen varieties of shelf stable pickles with clever names like Bee N Beez (bread and butters) and Spears of Influence, all packed by hand and made with natural and local (to New York) ingredients. And now these delectable pickles are available on foodzie in a Pregnancy Pack gift set of pickles: Four jars of crunchy, juicy pickles in flavors that will appeal to anyone's palate. Particularly those with child.
Okay, so not everyone craves pickles when they're pregnant. But it still makes a funny shower gift.
And, lest anyone feel somehow excluded from the club, we don't have to be pregnant to enjoy these yummy pickled creations. Heck, I'm pretty sure Rick's not. –Stephanie
Find the a Pregnancy Pack of pickles from Rick's Picks online at Foodzie and for more fun gifts for expectant moms, don't miss our Ultimate Baby Shower Gift Guide.