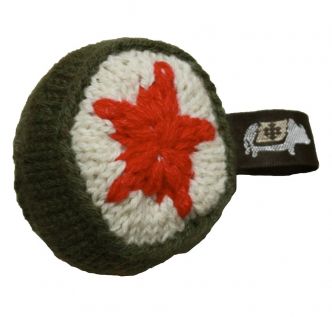 You may already know how much we love Shokay, the little e-shop that put yak hair on our collective radar. Soft, cashmere-like, and socially responsible (the shop supports struggling Tibetan yak farmers), this luxury fiber makes some of the most beautiful clothes, accessories and toys we've ever seen.
And they've just relaunched their site, making it much easier to navigate. Lucky for me, because that means I just happened upon their new collection of hand knit baby toys. Made of yak hair fiber (of course) the little Sushi Rolls are going to be a perfect baby shower gift for all the spring babies who have been making their debut lately.
Or maybe you prefer a little Salmon Nigiri?
And the best news? Everything from their winter line is on sale right now. Including the sushi. Who knew raw fish was seasonal? –Stephanie
Find beautiful baby gifts and blankets from Shokay, and in honor of the new site, save an additional 15% off everything, even reduced items, with code SHOKAYFAN through April 15