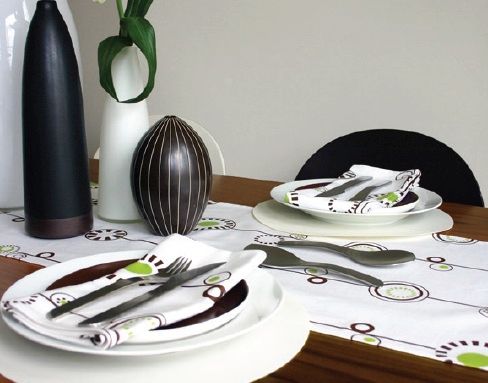 It's hard to believe I had my son a decade ago. Back then, no matter what your personal style was, you were pretty much limited to duckies, boats or flowers when it came to baby bedding. But now companies like Olli and Lime are turning out chic and modern textile alternatives to satisfy even the biggest style snob. In fact their fabrics are so stylish and "un-babyish" that they're now also available for your kitchen.
So far they've expanded the George and Charlie nursery collections into cool kitchen linens like napkins, tea towels, table runners and even an apron that I would not feel the slightest bit self conscious wearing. I'm a big fan of the napkins and, at $45 for a set of four, they're within my price range.
Maybe not for everyday use–although bless the ecomamas out there who use cloth napkins daily–but for meals that require more than a microwave to make. Hey, it could happen. -Betsy
Find modern kids bedding pus the new kitchen
linen collection at olliandlime.com and save 20% off your order with discount code "picks" through 4/30/10
Congratulations to Dori K, lucky winner of a set of kitchen linens!